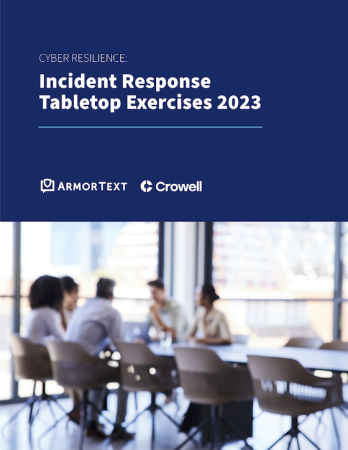 Cyber Resilience: Incident Response Tabletop Exercises 2023

Every day, companies face a barrage of attacks from cybercriminals looking to gain access to IT systems to steal sensitive data and do harm. To be ready, it is critical to have a robust incident response plan that can be deployed against cyber threats when they arise.
ArmorText and the international law firm of Crowell & Moring LLP are pleased to offer an innovative guide, Cyber Resilience: Incident Response Tabletop Exercises 2023. Written for C-suite executives, in-house counsel, and incident response teams, the toolkit is a resource for leaders as they help their organizations mitigate cyber threats and strengthen their incident response capabilities.
Cyber Incident Response: Tabletop Exercises 2023 outlines three cybersecurity scenarios modeled after real-world events and provides facilitators a sophisticated toolkit to lead their teams through all aspects of their tabletop exercises, including incident response, business continuity concerns, and post-incident obligations. Scenarios include:
Learn more about how to use this guide from the authors
Join our webinar, "Cyber Resilience: Conducting an Incident Response Tabletop Exercise," that will explore how use the guide's modules and injects and run a tabletop dynamically on Tuesday, Nov. 7, 2023 at 1 pm ET. The webinar will walk executives through facilitating a tabletop exercise, step by step, and provide practical insights along the way.

ArmorText is a leading provider of Secure Out of Band Collaboration™ solutions, trusted by banking, healthcare, oil & gas, manufacturing, governments, and other critical infrastructure entities around the world. ArmorText's secure collaboration platform protects day-to-day security operations, incident response, and the exchange of threat intelligence for sector-wide collective defense.
According to The Forrester Wave™: Secure Communications, Q3 2022, "ArmorText excels at enabling out of band communications… [and] is a great fit for security operations, incident response communications and collaboration, as well as multi-organization threat intelligence sharing."

Crowell & Moring LLP is an international law firm with offices in the United States, Europe, MENA, and Asia. Drawing on significant government, business, industry and legal experience, the firm helps clients capitalize on opportunities and provides creative solutions to complex litigation and arbitration, regulatory and policy, and corporate and transactional issues. The firm is consistently recognized for its commitment to pro bono service as well as its programs and initiatives to advance diversity, equity, and inclusion.